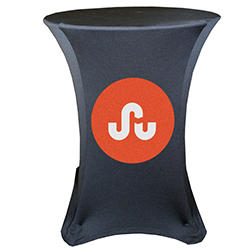 Couture Table Covers
Sleek silhouettes and a perfect design space are what set Couture Table Covers apart from standard covers. No matter the style of table you're using, a Couture Table Cover can add a touch of smooth elegance in addition to your own custom branding.

Available sizes:
30" x 29", 36" x 29", 48" x 29", 60" x 29", 72" x 29"
4' Banquet, 6' Banquet, 8' Banquet
30" x 42", 36" x 42"
While the idea of printing on a stretchable surface can be daunting, the designs created by our engineering and graphics departments allow you to have the least amount of distortion to any printed images. The smooth curves are made so that large swaths of table cover are untouched by areas of major stretching, keeping your imagery perfectly displayed. Templates for you to download and design on your own can be found here.
The stretching cover is perfect for making sure your cover stays in place, even in breezy areas. Each has fabric pockets at the table feet locations that allow you to anchor the cloth, keeping it in place and form fitting from top to bottom. Videos on all of our table cover styles can be found on our YouTube Channel in this table cover playlist
Wind Resistance
Couture Table Covers are connected to the table's feet and are more aerodynamic due to the stretch material, making them better for breezy areas.
Identical Print Process
Created using dye sublimation similar to standard table covers, Couture Covers are also machine washable as the print is literally dyed into the fabric.
Protective Feet Pockets
Each corner of the cover has a sewn-in protective pocket to house the table's feet, protecting the cover and keeping it in place.